Lakehead music student taking the trip of a lifetime
A Lakehead University music student will take a life-changing trip this summer when he travels to Italy to study at the renowned Cremona International Music Academy.
Thanks to a $5,000 scholarship from Lakehead University's Institute of Italian Studies, third-year music student Amani Sloley, who plays the viola, will spend 18 days studying with world-class musicians in the birthplace of the legendary violin maker, Stradivarius.
This immersive program offers a wide range of string and wind instruments, piano, voice, composition, and conducting courses.
In addition to working with esteemed faculty members from around the world, Sloley will participate in chamber music coaching and orchestral and ensemble training.
"I'm looking forward to meeting and performing with all the other musicians. I love to meet new musicians as each musician has a different perspective and experience within their music. I am also very excited to work with the fantastic viola and composition faculty at the Cremona Music Academy. I cannot wait to meet them," he said.
This experience will help him improve his performance, compositional skills and knowledge, and he will have the opportunity to perform in public at historic venues in and around Cremona.
"I plan to walk away from this trip with a greater understanding of music and an appreciation of Italian culture," he said.
"After meeting many professional musicians, I know I have much to learn about music. Cremona is one of the best places to learn from experienced musicians worldwide. Visiting Italy and seeing such a beautiful country and being immersed in its culture will be life changing," he said.
While at Cremona, Sloley wants to improve and expand his skills in performance and composition. During the program, he will participate in many workshops, including sight-reading, technique and interpretation, and orchestra performance. Workshops like these will help enhance his musical abilities.
Sloley moved to Thunder Bay from Brampton. He chose to study at Lakehead University because of the wonderful music facilities and the professors.
"The Music faculty at Lakehead University are some of the best musicians I have seen. With their successful careers, years of teaching experience and dedication to teaching students, studying and learning with them has been excellent."
Dr. Evgeny Chugunov, Associate Professor of Piano and Piano Pedagogy at Lakehead University and faculty member at the Cremona International Music Academy, has had the pleasure of witnessing Lakehead University students achieve remarkable success in previous years.
"While it has been exciting to see my piano students perform and win their prestigious competitions, I am particularly delighted that Amani, a gifted viola player and composer, will have the opportunity to benefit from this unique educational experience.
"Amani is currently studying composition with Dr. Aris Carastathis. He will have the rare chance to showcase his compositions to other musicians and perform them with the Academy's String Orchestra at historic venues in Cremona," Dr. Chugunov said.
Mark Piovesana said the Institute of Italian Studies – Lakehead University is pleased to partner with the Department of Music to offer this opportunity to a deserving student.
"Our mission is to promote the appreciation, research and study of the Italian language, culture and history. We feel this is an example of the many opportunities our Board has created to further our mission," said Piovesana, President of the Institute of Italian Studies – Lakehead University.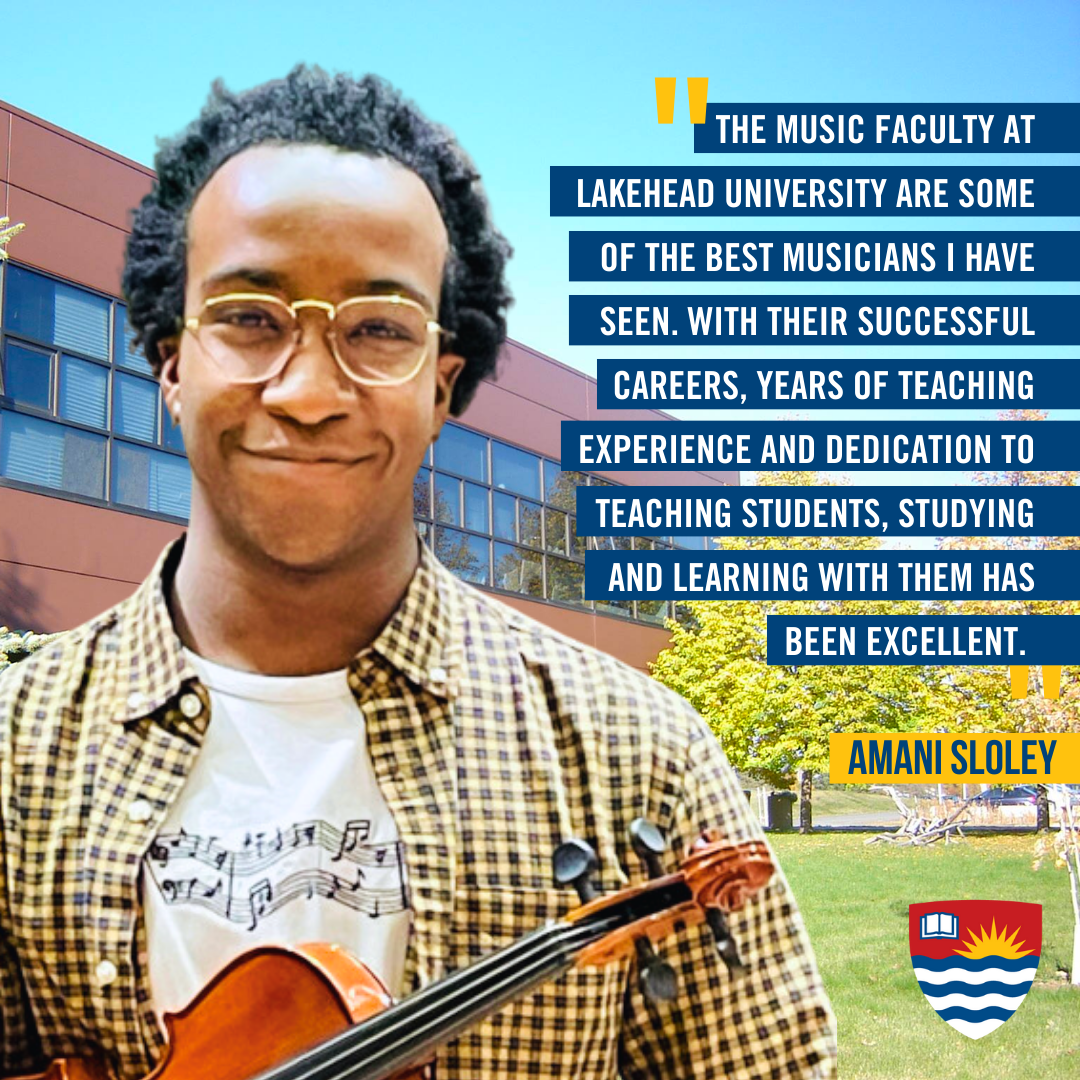 Amani Sloley
March 30, 2023 – Thunder Bay, Ont.
View the original article: https://www.lakeheadu.ca/about/news-and-events/news/archive/2023/node/80959